Welcome to the WataMote Wiki!
The WataMote Wiki is dedicated to everything related to Watashi ga Motenai no wa dō Kangaetemo Omaera ga Warui! (No Matter How I Look at It, It's You Guys' Fault I'm Not Popular!). Shortened to WataMote, it is a Japanese manga series written and illustrated by Nico Tanigawa that was adapted into an single-season anime series in July 2013.

We have strived to developed this wiki and any help in improving the pages will be appreciated.
Characters
Media
Featured Image
Featured Video
Pollbooth
Do you think WataMote should have a second season?
See more >
Praise for the Anime Adaptation
Featured Article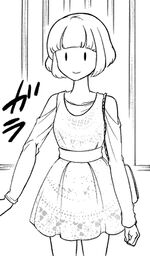 Better known in the English translation by her nickname "
Ucchii
," Uchi is
Tomoko
's second then third-year classmate. Because she could not form a group of five with her friends for the school trip to Kyōto, she along with
Yoshida
and
Yuri
are put in Tomoko's group. Since that time and despite her initial dislike of Tomoko, she has become progressively interested in to obsessed with Tomoko to the point of developing a crush while still declaring that she finds Tomoko's behavior "disgusting (きもい・キモい・
kimoi
)!"
Read more >
Newsfeed

Refresh
See more >
Loading RSS data...
Follow Us
Community content is available under
CC-BY-SA
unless otherwise noted.