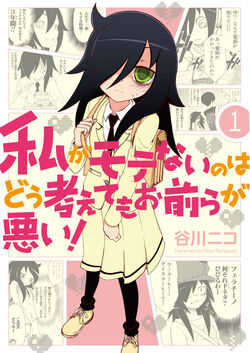 No Matter How I Look at It, It's You Guys' Fault I'm Not Popular! (私がモテないのはどう考えてもお前らが悪い!, Watashi ga Motenai no wa dō Kangaetemo Omaera ga Warui!?) is a manga series from Japan. Written and illustrated by the Author and Artist who use the collective pseudonym Nico Tanigawa, it began serialization on Square Enix's Gangan Comics Online service on August 4, 2011. In North America, it is licensed by Yen Press. On July 8, 2013, Silver Link's television anime adaptation began airing.
Gangan Comics held an official pole to provide a shortened name for the series and "WataMote (ワタモテ)" won.
Plot
15-year old entering high school student Tomoko Kuroki reads the definition of a "mojo" (もじょ ・ 喪女): a "creepy" or "unpopular girl" which appears to describe her. Tomoko believes she will be popular in high school since she is so successful in otome games. When she starts high school, she realizes the opposite is true as she finds herself a loner and suffering from severe social anxiety. Tomoko proves awkward, unable to talk to even her teachers, as well as lacking a filter to prevent her from saying what immediately comes to her mind which usually proves embarrassing. The series follows her as she gradually begins to make acquaintances as she matures through high school.
Characters
Kuroki Family
Tomoko's Main Social Circle
Gallery
Community content is available under
CC-BY-SA
unless otherwise noted.