Chapter 3

Information

Volume Number
Volume 1
Chapter Title
Because I'm Not Popular, I'll See An Old Friend
Published
01 September 2011
Previous Chapter
Chapter 2
Next Chapter
Chapter 4
私がモテないのはどう考えてもお前らが悪い!
Watashi ga Motenai no wa dō Kangaetemo Omaera ga Warui!
No Matter How I Look at It, It's You Guys' Fault I'm Not Popular!
Synopsis
While Tomoko enjoys listening to a yandere guy CD, she is interrupted by an unexpected phone call from Yū Naruse, a friend from middle school. Yū invites her to hang out the next day at a café. Tomoko recalls Yū as unremarkable and not a very good student who had to attend a "mediocre" high school.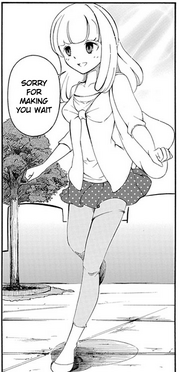 When they meet at the café the following day, Tomoko is surprised by how different her friend looks. Yū now wears contacts, styles and dyes her hair, wears a miniskirt, and even wears perfume. Inwardly, Tomoko wonders if girls actually smell like Yū. When Yū orders, Tomoko inwardly thinks her drink sounds perverted. Yū admits to Tomoko that she changed her appearance when she entered high school since she felt out of place. She then asks if Tomoko still watches anime. She becomes excited when Tomoko sheepishly admits she does since Yū could not find anyone who would talk about it in her school. Tomoko realizes that Yū is still the same person inside.
They talk about anime and later end up hanging out at the arcade. Nearing the end of their outing, Tomoko notices that Yū seems a little sad so she tries to cheer her up by telling her how her own high school experience has not been as fulfilling as she would have hoped and that Yū should do her best as well. Overjoyed by Tomoko's support, Yū responds by telling her she was feeling a little down because of a fight she had with her boyfriend and that as long as Tomoko is in her life she will be okay. Tomoko is distraught by the news of Yū having a boyfriend and starts ignoring Yū by putting on her headphones and continue listening to her yandere guy CD.
Characters
Trivia
First appearance of Yū Naruse.
Yū calls Tomoko by the nickname "Mokocchi."
This chapter is adapted into the second episode of the anime.
This chapter shows hints of Tomoko's future perverted tendencies toward Yū and other girls.
Tomoko will later recall that Yū did poorly on the high school entrance exam.
Cultural References
The coffee shop Tomoko and Yū go to is called "Star Turry's Coffee" with a logo very similar to Starbucks' logo.

The name is based on Starbucks and Tullys.
Tomoko has Beats By Dre headphones.
Memorial Moments
Tomoko "relaxing" to yandere guys.
Tomoko checking out Yū for the first time.
Quotes
"Why are you crying? Did you do something bad? This happened because you talked to guys other than me…" – Tomoko's Yandere Guy CD.
Gallery