Chapter 22

Information

Volume Number
Volume 3
Chapter Title
Because I'm Not Popular, I'll Take a Picture
Published
05 July 2012
Previous Chapter
Chapter 21
Next Chapter
Chapter 23
私がモテないのはどう考えてもお前らが悪い!
Watashi ga Motenai no wa dō Kangaetemo Omaera ga Warui!
No Matter How I Look at It, It's You Guys' Fault I'm Not Popular!
Synopsis
After the cultural festival, Tomoko tries to settle into a routine. She notices that if she does not leave her desk during lunch, her seat will not be stolen. As she eats lunch, she overhears some classmates talking about pictures they took during the culture festival. She cannot help but think they talk about her. She inwardly states that she does not care, but the narration notes, "she said she's not interested but. . . ."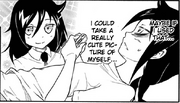 A few days later, Tomoko plays in an arcade. She notices a photo booth that promises to make one look prettier. She watches a bunch of girls eagerly enter it. That night, lying in bed, she thinks about the booth. She tries to invite 
Yū
but she is busy studying for a test. She then enters
Tomoki
's room to invite him, but he immediately rebuffs her.
The next day after school, Tomoko slowly approaches the booth. Making sure no one is around, she runs int. Unfortunately, Tomoko cannot keep up with the automatic requests of the booth. Typically, Tomoko seeks to blame others for failure: she blames her brother for not accompanying her. As she laments spending 400 yen, she looks at her pictures. She compares them to the advertised pictures of girls and boys.
The scene shifts to Tomoko placing pictures in a room. It is revealed that covered Tomoki's room and skillfully replaced faces in some of his posters with her face. As Tomoki reacts in shock, the narration asks, "is her brother going to leak those pictures?!"
Characters
In order of appearance:
Referbacks
Trivia
Cultural References
Purikura : from プリントクラブ (Purinto Kurabu ・Print Club), the link demonstrates that not only Tomoko has suffered from its horrors.
Memorial Moments
Tomoko places her pictures in all of Tomoki's.
Quotes
"They're the one that leak embarrassing photos of people right? I don't care about that…" – Tomoko
Gallery
Community content is available under
CC-BY-SA
unless otherwise noted.