Chapter 46

Information

Volume Number
Volume 5
Chapter Title
Because I'm Not Popular, I'll Go Meet An Old Friend
Published
02 August 2013
Previous Chapter
Chapter 45
Next Chapter
V05 Omake
私がモテないのはどう考えてもお前らが悪い!
Watashi ga Motenai no wa dō Kangaetemo Omaera ga Warui!
No Matter How I Look at It, It's You Guys' Fault I'm Not Popular!
Synopsis
The single panel page depicts Tomoko sitting with her legs in the school pool while holding a hose and wistfully thinking, "Nothing much has changed from when I was in middle school."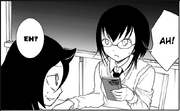 Tomoko goes to the school library to find a book. The narration reads: "Someone unnexpected appears before Mokocchi." Tomoko, stammering, asks the student librarian to check out a book. Kotomi, the librarian, is surprised to realize Tomoko is in her high school. Sweating, Kotomi talks about their middle school days, but Tomoko has no idea who she is. She can remember Yū Naruse and another heavy-set girl named Kawamoto who both wore glasses, but she can only remember a pair of glasses for Kotomi. After struggling to remember something more than a pair of glasses, Tomoko guesses that Kawamoto lost weight, and given an incident where she sneezed her stew into Kawamoto's face at lunch, she understands why the girl takes such an attitude with her.
Tomoko greets Kotomi with Kawamoto's name. Kotomi corrects her and realizes Tomoko has no memory of her. Forcing a smile, she hands Tomoko her book as Tomoko notices Kotomi's name on a sign identifying the week's librarian.
As she walks the hallway, Tomoko struggles to remember Kotomi. Finally, she unites her memory of glasses with Kotomi and realizes she was a friend of Yū which was the only reason Tomoko had any association with her. Tomoko then wonders if she ever did somthing to Kotomi to make her hate her.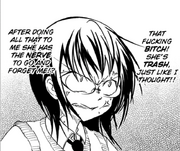 Meanwhile in the library, Kotomi inwardly rages against Tomoko for forgetting her after what Tomoko had done to her.
At home, Tomoko finds Kotomi's picture in her middle school yearbook. She thinks she is sure that Kotomi did not have any friends. She happily surmises that since Kotomi is a loner like her they should get along.
The narration asks "Just what happened to those two in the past?!"
Characters
In order of appearance
Referbacks and Forewards
Total Recall: Tomoko appears to have honestly erased Kotomi from her memory. Given what will be revealed about their past, this proves quite an achievement while demonstrating how Tomoko views peers at this stage.
Memorable Moments
First official appearance of Kotomi.
Trivia
All three of Tomoko's friends from middle school wore glasses.
Quotes
"Eh? Who is this? It seems like she knows me, but I have no clue who she could be!" – Tomoko
"That fucking bitch! She's trash, just like I thought!! After doing all that to me and she's the nerve to go and forget me!?" – Kotomi
Gallery