Chapter 107

Information

Volume Number
Volume 11
Chapter Title
Because I'm Not Popular, I'll Attract Attention
Published
17 November 2016
Previous Chapter
Chapter 106
Next Chapter
Chapter 108
私がモテないのはどう考えてもお前らが悪い!
Watashi ga Motenai no wa dō Kangaetemo Omaera ga Warui!
No Matter How I Look at It, It's You Guys' Fault I'm Not Popular!
Synopsis
Ogino orders the female students to pair-up for stretching outside. Hina asks to pair with Okada while Tomoko appears to watch with some disappointment. Yuri offers to Tomoko to make a threesome with Mako as Uchi and Kayo watch questioning, but Yoshida grabs Tomoko as a partner. Tomoko wonders why Ogino looks so satisfied.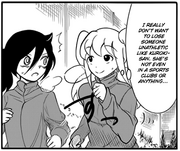 As they run together, Okada asks Hina why she has become so diligent in physical education. She claims she wishes to lose weight but inwardly feels she needs her stamina as a voice actress. She runs ahead and catches up to Tomoko who is in the lead. When she seemingly compiments Tomoko for taking the marathon seriously, Tomoko inwardly notes that it is easy for her "since everyone else half-asses it." Hina asks her what
anime
she is watching only to respond, "figure you'd be into that kind of stuff" and denounce it as "garbage" as she runs ahead and Tomoko inwardly rages at her attitude.
Tomoko then overtakes her. Hina, determined to not lose to someone like Tomoko, puts up a fight. Koharu Minami tells her anonymously drawn and unnamed friend Sachi that she ran so much she may have lost a kilogram. Sachi teases her that she was practically walking. Behind them, Tomoko and Hina crouch exhausted and out of breath. This attractis the unwanted praise from Ogino who makes the rest of the class applaud their efforts. In response to Ogino's praise, Tomoko mutters "Go die in a hole, you bitch!" Hina inwardly notes that that is something they can both agree upon.
Epilogue: Tomoko asks Hina what her favorite anime is in order to mock her taste. Hina starts giving an honest answer but flip-flops when Okada walks up to them and claims to like Your Name.
Characters
In order of appearance:
Kayo (unnamed Uchi friend)
Sachi (unnamed)
Referbacks and Forwards
Hina secret aspiration of becoming a voice actress was revealed in Chapter 90.
This chapter reveals that Hina has an odd competition in her mind with Tomoko which becomes more apparent in later chapters.
Trivia
The Epilogue is not available in a number of fan English translations.
Cultural References
Memorial Moments
Despite her apparent friendliness, Hina acts rudely to Tomoko as one might expect Tomoko to act.
Quotes
"I can't stand garbage shows like that." – Hina
"Go die in a hole, you bitch!" – Tomoko
Gallery
Community content is available under
CC-BY-SA
unless otherwise noted.