Chapter 110

Information

Volume Number
Volume 12
Chapter Title
Because I'm Not Popular, I'll Cheer On The Entrance Examinees
Published
February 2, 2017
Previous Chapter
Special Edition
Next Chapter
Chapter 111
私がモテないのはどう考えてもお前らが悪い!
Watashi ga Motenai no wa dō Kangaetemo Omaera ga Warui!
No Matter How I Look at It, It's You Guys' Fault I'm Not Popular!
Synopsis
The title page depicts cleaning an area of the school while the Former Class Rep chats with an unnamed blond girl with braids at the doorway. The narration reads, "Working with a sigh."
Applicants to Tomoko's high school enter for the early admissions examination. The side-panel narration states, "Mokocchi finds herself instantly captured by her mortal foe. . . "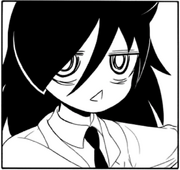 Tomoko stands directing examinees to a classroom. A few days before, she looked forward to enjoying a holiday break, only to be reminded by Ogino that she had previously signed herself up for the entrance exam committee and now needs to stay and help oversee the high school entrance exams. At the time, Tomoko was stunned to believe she volunteered for anything, but she then recalls the previous April overhearing another student state she would volunteer for the "Volunteer Committee" since it only does one thing a year. Back in present time, Tomoko rues that the "one thing they do" happened to take place during a holiday.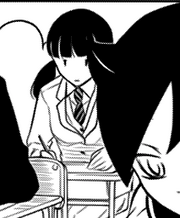 Tomoko briefly fantasizes messing with exam takers but ultimately dutifully sits in her chair and watches the exam. As she sits, she reminisces about her test two years previously. Behind her and to her right sat Uchi with her natural black hair. When she finished her exam, Tomoko felt it must have been very hard for Yū. Indeed, Yū sits with a stunned look on her face. Tomoko opines that "she looks like she just got raped . . . welp, guess she's doomed, then."
Tomoko introduces herself to the girl to her right, who is Hina, but who has black hair. Tomoko gives her a congratulatory "fist bump" but then turns away from Hina before she can complete giving her name. Instead, Tomoko then turns to talk to another girl who happens to be Itō. Back in present time, Tomoko finds her memories of her behavior embarrassing, and she wonders what happened to the two girls.
Back in the present, a girl taking the test falls ill, and Tomoko happily takes her to the nurse's office. There, Tomoko warms herself before the tea kettle. The girl is distraught that she might not be able to proceed with the exams, so Tomoko tries to comfort the girl by reassuring her that the tests are so easy that "perverts" and "delinquents" can pass them. When the girl reveals she promised her boyfriend, who is also taking the exam, to pass it with him so they could go to the same high school, Tomoko responds that she should still rest and she and her boyfriend can still go to a different school together. The girl thanks her for her advice as Tomoko goes back to warming herself.
Five days later when the exam results are posted, the same girl rushes over to thank Tomoko and say that she followed her advice and was granted permission to take the exam later and passed. However, her boyfriend did not pass, and the girl will go to Tomoko's school anyway despite the earlier promise the couple made. Tomoko's goodwill rapidly melts as she concludes that the girl is "scum."
Characters
In order or appearance:
Referbacks and Forwards
Shizuku Hirasawa's first appearance; however, she remains unnamed until she meets Tomoko again in Chapter 132.
Her boyfriend's first appearance. Unfortunately, his aptitude for failure and lack of a name currently remains.
Trivia
It is implied that Yū attended a different school because she did not pass the entrance exam.
Hina had black hair before entering high school.
Tomoko does not remember meeting Hina and Itō.
The girl the Former Class Rep chats with resembles Mike save Mike has appeared in earlier chapters with her darker hair.
Memorial Moments
Tomoko gave Hina and Itō a fist bump. This will have repercussions.
Middle School Emiri Uchi
Shizuku Hirasawa's first appearance.
Quotes
"You know, even delinquents and perverts managed to pass this school's entrance exam. In fact, it's so easy that if you can't pass you're even worse than the likes of them." – Tomoko Kuroki
"This school's already packed with delinquents and perverts, and loners. We don't need to keep adding to that list. . ." – Tomoko
"Great . . . so now we've got scum added to our ranks of delinquents, perverts, and loners at this school. . . ." – Tomoko
Gallery