Chapter 111

Information

Volume Number
Volume 12
Chapter Title
Because I'm Not Popular, I'll Imagine My New Game+
Published
02 March 2017
Previous Chapter
Chapter 110
Next Chapter
Chapter 112
私がモテないのはどう考えてもお前らが悪い!
Watashi ga Motenai no wa dō Kangaetemo Omaera ga Warui!
No Matter How I Look at It, It's You Guys' Fault I'm Not Popular!
Synopsis
Tomoko
reaches the end of a video game that asks her if she wishes to begin a new game. She enters
Tomoki
's room and deduces that she can live life with a "new game plus" option if she gets held back a year in school. By retaining her memories of the previous year, she can nail her introduction, ace her exams, and be able to get along with students due to her mental superiority.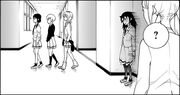 After realizing she should try to make the most out of a new game plus, Tomoko begins to imagine scenarios where she behaves more like a protagonist. This includes a confrontation with a jealous girl, a Sakai Maki, she surpasses in exam scores to take first place, holding superior knowledge, making friends with little effort, and being the center of attention among her peers. Nevertheless, near the end of her fantasy, students remark to themselves how she never talks to anyone and seems quite lonely. In her imagination, Tomoko concludes that if she interacts more, students will discover she is repeating a year. She determines to become a slacker who will not gain attention. However, in her imagination, her knowledge on how to run festivals still gains the admiration of her peers. Meanwhile, she struggles to avoid friends such as
Yuri
,
Yoshida
, and
Mako
.
Tomoko comes out of her imagination and makes the suggestion that Tomoki could even be in the same class as her as a previously locked party member. She furthers states how they can go on the school trip together and immediately stops talking about it when her brother gives her a death glare.
Characters
In order of appearance:
Trivia
Quotes
"Dammit... I've been trying to hide my power level and live a normal high school life, but people are starting to catch on..." – Tomoko
"W-Wait! I was just kidding! Come on, don't give me that face! Please!" – Tomoko
Gallery
Community content is available under
CC-BY-SA
unless otherwise noted.