Chapter 121

Information

Volume Number
Volume 12
Chapter Title
Because I'm Not Popular, I'll Spend Time With My Dad
Published
21 September 2017
Previous Chapter
Chapter 120
Next Chapter
Chapter 122
私がモテないのはどう考えてもお前らが悪い!
Watashi ga Motenai no wa dō Kangaetemo Omaera ga Warui!
No Matter How I Look at It, It's You Guys' Fault I'm Not Popular!
Synopsis
Having finished her game during her Spring Break Tomoko finds herself with nothing to do. She decides to accompany
her father
fishing. As she stands with her rod, she find it boring and reminisces about her childhood and how she always caught rotting fish with her brother.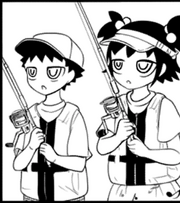 While they sit, her father notes that Tomoko gave up accompanying him fishing long ago while
Tomoki
continued until middle school: "I guess girls really don't fish, huh." He then asks her about her school life. He reveals that
her mother
recently noticed that Tomoko stopped complaining about school. Tomoko thinks to herself that so much has happened in the last three months she has not dwelled on school.
Tomoko asks her dad if she can take a picture holding one of the fish he caught so she can send it to friends pretending she caught something. Afterwards, she feels a "bite" on her line. Once again, she reels in a rotting fish, and she wonders if "birds of a feather flock together." As she rides home, her father concedes that the fishing was probably boring to Tomoko since she did not catch anything, but Tomoko replies that it was not "that bad," and "technically," she caught something.
In their homes, Yū, Yuri, and Mako receive messages on their phones. Yū receives the picture of Tomoko holding her father's fish, while Yuri and Mako receive a picture of her proudly holding the rotten fish. The side panel narration declares: "She looks pretty happy about her catch!"
Characters
In order of appearance:
Trivia
Mr. Kuroki drives a 2012 (or newer) Toyota Prius α .
Mr. Kuroki's eyes are revealed in this chapter, and they are shown to be similar to Tomoko's.
Memorial Moments
This is the most Tomoko's dad has appeared and spoken in a chapter. His questions indicate that he and her mother do pay attention to their daughter.
Quotes
"It was only a rotten, half-dead fish, but we were still so excited..." – Tomoko
Gallery
Community content is available under
CC-BY-SA
unless otherwise noted.