No Matter How I Look at It, It's You Guys' Fault I'm Not Popular! Volume 02
Watashi ga Motenai no wa dō Kangaetemo Omaera ga Warui![1]
私がモテないのはどう考えてもお前らが悪い![2]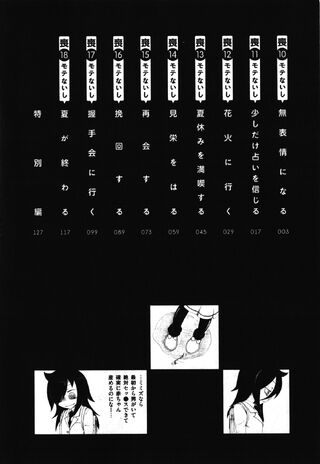 Chapters
Extras and Goodies
Back Cover: Tomoko has the fantasy of being the centerpiece of a photo taken during her school trip; in reality, her class picture is added as an insert.
Relationship Chart: (Main Event)

Duiring Summer Vacation, Tomoko and junior high school students peep on a Love Hotel.
Tomoko and Yū-chan go to buy underwear.
Tomoko and the Manga Research Club's Fatty stay behind on the subject of fine art.
Tomoki Kuroki ⟶ Tomoko: "annoying sister"
Tomoki ⟵ Tomoko: "cute brother"
Kosaka & Kosaka's Friend ⟶ Tomoko: "poor kid"
Kosaka & Kosaka's_Friend ⟵ Tomoko: "I didn't speak well"
Tomoko ⟶ Hatsushiba: "interested in me?!"
Hatsushiba ⟶ Tomoko: "apathy"
Yū Naruse ⟶ Tomoko: "erotic friend who changed into a slut"
Yū ⟵ Tomoko: "affable best friend"
Gallery
References
Gallery