No Matter How I Look at It, It's You Guys' Fault I'm Not Popular! Volume 09
Watashi ga Motenai no wa dō Kangaetemo Omaera ga Warui![1]
私がモテないのはどう考えてもお前らが悪い![2]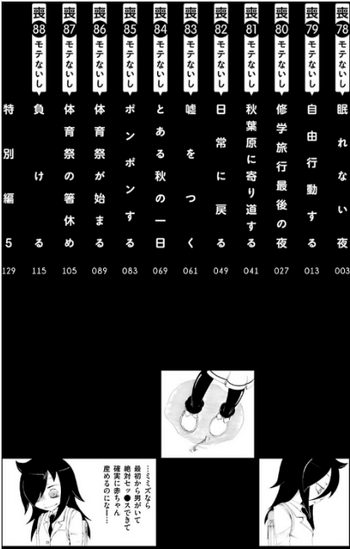 Chapters
Extras and Goodies
Back Cover: Tomoko imagines worrying about her heart beating so hard her partner in the three-legged race will hear it. In reality, she can barely catch her breath.
Cover Bonus:

Right Inner Cover: Friar Tomoko slyly opens an iron maiden with her face on it.
Left Inner Cover: an explanation of the iron maiden which continues the running "virgin" references from previous volumes.
References
Gallery
Community content is available under
CC-BY-SA
unless otherwise noted.