No Matter How I Look at It, It's You Guys' Fault I'm Not Popular! Volume 1
Watashi ga Motenai no wa dō Kangaetemo Omaera ga Warui![1]
私がモテないのはどう考えてもお前らが悪い![2]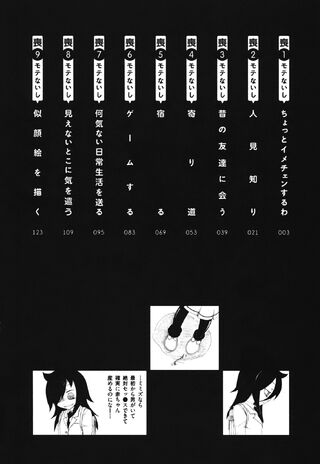 Chapters
Extras and Goodies
Back Cover: Tomoko has the fantasy of two girls, one probably Hina Nemoto and the other possibly Emiri Uchi, neither of whom appear yet in the chapters in this volume, complementing on her smell. Reality depicts two boys discussing whether they smell "Grandpa" or "Granny's house!"
Relationship Chart: (Main Event)

Taking shelter from the rain, Tomoko encounters two boys.
Tomoko and Yū-chan go to buy underwear.
Tomoko and the Manga Research Club's Fatty stay behind on the subject of fine art.
Tomoki Kuroki ⟶ Tomoko: "annoying sister"
Tomoki ⟵ Tomoko: "cute brother"
Kosaka & Kosaka's Friend ⟶ Tomoko: "poor kid"
Kosaka & Kosaka's_Friend ⟵ Tomoko: "I didn't speak well"
Tomoko ⟶ Hatsushiba: "interested in me?!"
Hatsushiba ⟶ Tomoko: "apathy"
Yū Naruse ⟶ Tomoko: "erotic friend who changed into a slut"
Yū ⟵ Tomoko: "affable best friend"
Gallery
References