No Matter How I Look at It, It's You Guys' Fault I'm Not Popular! Volume 12
Watashi ga Motenai no wa dō Kangaetemo Omaera ga Warui![1]
私がモテないのはどう考えてもお前らが悪い![2]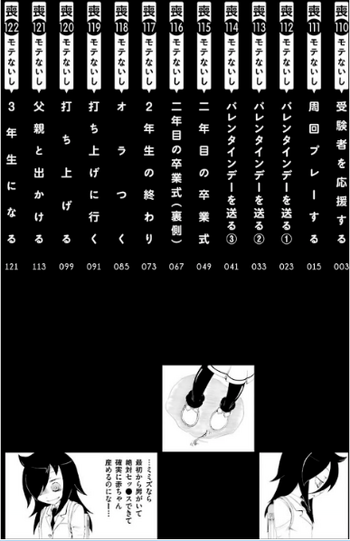 Chapters
Extra Goodies
Inside Pages: The source of the volume cover photograph is revealed in the inner pages of the volume. One shows a sketch of Megumi Imae's unnamed friend smiling as she prepares to snap a picture with a phone, and the other is a sketch taken from behind Megumi and Tomoko posing.
Back Cover: Continues the "Fantasy versus Reality" with Emiri Uchi imaging singing karaoke with Tomoko after the class party only to find she did not come.
Relationship Chart: (Main Event)

Tomoko second-year Valentines.
Graduation ceremony for one grade higher than Tomoko's. Student President graduation.
Tomoko's first year class launch. After that, on to third year.
Tomoko ⟶ Megumi Imae: "Indebted to senpai.
Tomoko ⟶ Tomoki Kuroki: "cute brother"
Tomoko ⟵ Tomoki: "relieved she has friends"
Tomoko ⟶ Shizuku Hirasawa: "garbage"
Tomoko ⟵ Shizuku: "kind senpai"
Masaki Yoshida ⟶ Tomoko: "annoying friend"
Tomoko ⟶  Yoshida: "good friend delinquent"
Yoshida ⟷ Yuri Tamura: "friend"
Yuri ⟷ Tomoko: "friend"
Tomoko ⟶ Mako Tanaka: "crazy lesbian"
Tomoko ⟵ Mako: "respect"
Yuri ⟷ Mako: "close friend"
Mako ⟶ Tomoko: "respect"
Tomoko ⟶ Asuka Katō: "Mom"
Akane Okada ⟶ Tomoko: "concerned"
Tomoko ⟶ Koharu Minami: "needs braces"[3]
Emiri Uchi ⟶ Tomoko: "obsessed"
Tomoko ⟵ Hina Nemoto: "receive courage"
Tomoko ⟶ Hina: "friend"
Gallery
References
Community content is available under
CC-BY-SA
unless otherwise noted.