We're Getting Mutants in the MCU - The Loop
Play Sound
No Matter How I Look at It, It's You Guys' Fault I'm Not Popular! Volume 15
Watashi ga Motenai no wa dō Kangaetemo Omaera ga Warui![1]
私がモテないのはどう考えてもお前らが悪い![2]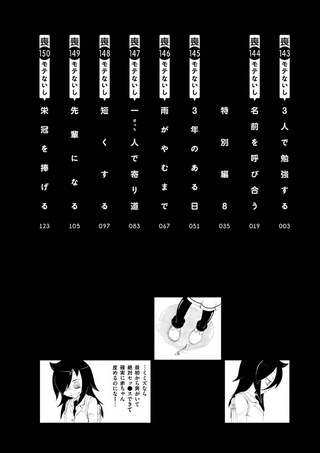 Chapters
Extras and Goodies
Special for Launch: The Artist provided character sketches for the inner covers for an exhibition[3]
Back Cover: As an Expectation, a content Yuri Tamura sits in class with Masaki Yoshida in front of her, Tomoko to her left, and Mako to her right. In Reality, a disappointed Yuri has Minami in front of her and a smug Hina to her left.
Inner Pages:

Hikari Itō at night types "good night" on her computer.
As she walks down the aisle of her classroom, Tomoko watches Yoshinori Kiyota, Wada, and Suzuki talking in the hallway through the windows.

Relationship Chart:  (Main Event)

Tomoko and Yuri-chan call each other by their names.
Nemo's time in middle school drawn episode.
Ball tournament started. Awareness as a senior emerges in Tomoko.
Shizuku Hirasawa ⟶ Tomoko: "longing (憧れ・akogare)"
Shizuku ⟵ Tomoko: "I want to act like a senpai"
Yū Naruse ⟶ Tomoko: "wants to go to college together"
Yū ⟷ Hikari Itō: "become friends"
Yū Naruse ⟶ Kotomi Komiyama: "wants to go to college together"
Shiki Futaki ⟵ Tomoko: "Emoji Mark II"
Hina Nemoto ⟶ Tomoko: "can be happy when herself"
Tomoko ⟵ Hina: "close friend (仲良し・nakayoshi)"
Masaki Yoshida ⟷ Tomoko: "good friend (良き友人・yoki yūjin)"
Asuka Katō ⟵ Tomoko: "Earth Mother Goddess"
Katō ⟶ Tomoko: "Motherhood"
Yuri Tamura ⟷ Tomoko: "deepening friendship (友情深まる・yūjō fukamaru)"
Yuri ⟶ Koharu Minami: "disgust (嫌悪・ken'o)"
Minami ⟶ Mike: "wants to badmouth"
Minami ⟶ Kotomi: "I don't know 'Glasses'"
Trivia
Expectation versus Reality: this is one of the volumes where a character other than Tomoko experiences the expectation.
Gallery
References