No Matter How I Look at It, It's You Guys' Fault I'm Not Popular! Volume 17
Watashi ga Motenai no wa dō Kangaetemo Omaera ga Warui![1]
私がモテないのはどう考えてもお前らが悪い![2]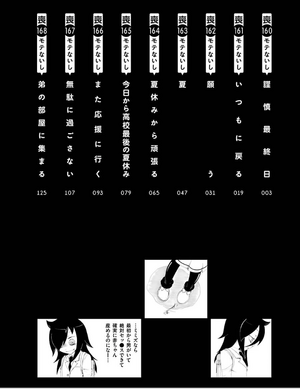 Chapters
Extras and Goodies
Back Cover: As an Expectation the Tanzaku of Shizuku Hirasawa from Chapter 162 reads that she really wants to get closer to senpai and have her call her by her name. As a Reality Tomoko calls her "Shizuku" and she squeals in excitement. Meanwhile from an overlooking window, Uchi grits her teeth as she watches them, and Miyazaki looks with surprise at Uchi.
Extra Contents:
Gallery
References
↑

???
Community content is available under
CC-BY-SA
unless otherwise noted.