私がモテないのはどう考えてもお前らが悪い!
Watashi ga Motenai no wa dō Kangaetemo Omaera ga Warui!
No Matter How I Look at It, It's You Guys' Fault I'm Not Popular!
Synopsis
Owner (飼い主・kainushi)
Megumi Imae walks with Ogino in the corridors of the high school as she apologizes for her family's dog bothering the school. Ogino pleasantly suggests that perhaps the dog keeps coming to the school since he thinks his "owner" (飼い主・kainushi) is there. Megumi explains that her family does not know how the dog keeps getting out, then adds that he has a collar. Ogino notes that Megumi's mother usually comes to the school to collect the pet and asks her if she is off from college. Megumi replies in the affirmative. Ogino continues that dog has become very popular due to his frequent visits, and the students have even given him a name. Megumi promises to discipline her pet.
Ogino leaves to explain that she needs to obtain the key from the janitor as Megumi observes her pet leashed to a tree. She addresses the dog with the name "Maro (マロ)." She then observes Uchi with Miyazaki greet the dog. Uchi addresses him as "Disgusting/Creepy Dog (キモイーヌ・kimoiinu)," and observes, "Today you're also disgusting, right?" Reina and Anna walk by. Laughing, Reina addresses the dog as "Cunnilingus Dog," and admonishes him that "Masaki's not here, heh?" Giggling, Anna corrects her that Tomoko would call him "Cunnilingus Mutt."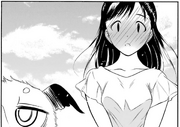 Wada then kneels down and pets the dog. Walking by, Suzuki asks Kiyota what is up with the dog. Kiyota explains that he knows of the dog. As they walk away with Wada joining them and waving at the dog and Megumi entering the frame behind the dog, Kiyota explains that the dog has a reputation for putting his head up girls skirts. In fact, he got one of the girls from their class, but he does not know which one. Suzuki asks if the dog is a pervert (変態犬・hentai inu) then wonders if the owner is a pervert (変態飼い主・hentai kainushi) who trained him that way.
Megumi stands in stunned embarrassment.
Characters
In order of appearance:
Referbacks
"Masaki's Not Here, Heh?": Megumi's dog licked Masaki's [CENSORED – Ed.] in Chapter 142.
Cultural References
Watch Your Vowels: WataMote Wiki will confess embarrassment at not recognizing the difference between the way Anna and Reina pronounce the dog's nickname and Tomoko pronounces it. Anna and Reina call him "cunni inu (クンニ犬)" with a clear separation between the "i," pronounced as a long e or "ē" in Japanese, of "ni" and "inu." Thus, "kū-n-nē ē-nū." Tomoko says "cunnīnu," (クンニーヌ) with the "ī" representing the "i" vowel in Japanese held for two beats rather than separated. Thus, "kū-n-nēē-nū."
Trivia
"It's the Way You Tell it, Anna!": the difference between Reina and Anna's nickname appears a matter of stress. Both "sound the same" with Anna substituting the katakana for Reina's kanji.
Memorial Moments
A Girl and Her Dog: Megumi learns the truth about her pet.
Quotes
"Disgusting Dog! Today you're also disgusting, right?" – Emiri Uchi
"Oo! Its Cunnilingus Dog! Masaki's not here, heh?" – Reina
"Wrong. Kuroki would call it the cunninmutt." – Anna Haruna about Maro
"That dog's kinda famous for sticking its head up girl's skirts. It even got one of the girls from our class. Don't know who, though" – Yoshinori about Maro

"Seriously? Is it a pervert dog or something...? Or maybe it's because its owner is a pervert that it's trained by that way?" – Suzuki about Maro
Gallery