No Matter How I Look at It, It's You Guys' Fault I'm Not Popular! Volume 18
Watashi ga Motenai no wa dō Kangaetemo Omaera ga Warui![1]
私がモテないのはどう考えてもお前らが悪い![2]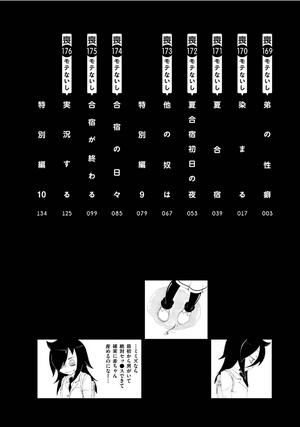 Chapters
Extras and Goodies
Back Cover: As an Expectation Tomoko sits nexts to the "bleached" Yū Naruse, who thinks "Study is fun!" and thinks that Yū's study is fun. As a Reality Tomoko thinks "I'm the same level as Yū?"
Title Page: Tomoko stares at herself in the mirror in her uniform and silver hair.
Extra Contents:

Asuka Katō and Kaho Kusunoki take a "selfie" together.
Kotomi Komiyama sits on her suitcase while she waits with Hikari Itō
A bleary-eyed Fūka Sasaki sits up in her bed while next to her Miho Narita continues to sleep.
In a stylized depiction which could be an imagination or plan of Emiri Uchi or even what happened in Chapter 172 assuming Uchi succeeded in convincing Miho and Fūka to leave the room, the studying Tomoko falls asleep with her head resting on Uchi's right breast. Uchi looks shocked but blushes.
While they eat ramen together, a chibi Tomoki stares at his silver-haired chibi sister.
Tomoko stands in her uniform holding a book, looking at the reader, and says, "it becomes silver hair."
A sketch of Sayaka peering at the viewer over her sunglasses.
A smiling Sachi waves.
A color sketch of Masaki Yoshida

Tweeted Goodies: Nico Tanigawa added pictures to their official account some of which come from the Special Edition booklet:

Dyed Sisters: with her silver hair, Tomoko sits outside surrounded by Reina, Anna Haruna, and Masaki.
Tomoko Greets Uchi: as she walks in school with Hina Nemoto, Tomoko is greeted by Uchi with shorter hair. Tomoko remarks, "Emo . . . Uchi-san. Somehow more deformed (デフォルメ・deforume) than usual," to which Uchi cries "KIMOI!" Nota Bene: the term デフォルメ refers to the distortion of characters as a caricature in manga.
Stats!: they give "character stats" for Tomoko.

Special Edition: this contains a self-satire of such where Tomoko suspects she is in a moe 4-Koma format manga. Later parts portray her as a different type of character. This is then followed by pages of statistics for Tomoko and various other "WataGirls."
Gallery
References
↑

???
Community content is available under
CC-BY-SA
unless otherwise noted.