Jurassic World: Dominion Dominates Fandom Wikis - The Loop
Play Sound
No Matter How I Look at It, It's You Guys' Fault I'm Not Popular! Volume 21
Watashi ga Motenai no wa dō Kangaetemo Omaera ga Warui![1]
私がモテないのはどう考えてもお前らが悪い![2]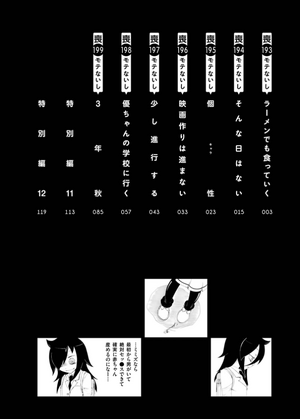 Chapters
Extras and Goodies
Front Cover: All dressed in Yū's high school uniform, Yū smiles as she poses with the "victory" sign, and a nervous Tomoko holds her hands in a "heart sign" at her waste, and a wary Kotomi points down and to the side with her left.
Back Cover: 

Expectation versus Reality: As an Expectation, Tomoko, Shiki, Asuka, Yuri work to film Hina and Akane. Tomoko dramatically announces that it is "Scene 31" and she expect them to do it in "one shot!" Hina eagerly agrees. As Reality, Tomoko sits at a table and dejectedly asks if any have seen any movies lately. Next to her, Emiri puts her straw in Tomoko's drink and demands a sip, while on the other side of the table, Hina stays silent, Yuri says she watches them on Netflix, and Tomoko confesses that she does not have that or Amazon Prime in her house.

Title Page: Tomoko stands in a breeze flowing through the windows of her classroom.
Extra Contents:

Volume 21 Omake:

Omake: During Yū's Cultural Festival, Hina encounters two friends from her past.
Afterwords: The Author recalls the Artist's fracture of her leg.

Bonus Pictures:

Extra Contents: Hugging her stuffed toy, Tomoko insists that she still has time.
Bonus Picture 1: Yū and Asuka dressed as bunnies.
Bonus Picture 2: Faced Sachi presents Koharu with money for her birthday which causes the delighted Koharu to emit hearts while her eyes show yen (¥) signs.
Bonus Picture 3: a somewhat older Tomoko with partially dyed hair, a face mask lowered to her chin, and adornments suggestive of Hello Kitty stares at you . . . you.
Bonus Picture 4: Faced Sachi wears a shear blouse over her dark dress as she stares at . . . you! Symbolism is involved.
Bonus Picture 5: The odd collection of Megumi, Tomoko, Yū, Koharu, and Yuri sit posing for a picture.
Bonus Picture 6: Asuka's friend from Yū's school, the cook, and the two bunny girls pose for a picture.
Bonus Picture 7: Yū's ex-boyfriend seen from behind.
Trivia
Gallery
References