私がモテないのはどう考えてもお前らが悪い!
Watashi ga Motenai no wa dō Kangaetemo Omaera ga Warui!
No Matter How I Look at It, It's You Guys' Fault I'm Not Popular!
Synopsis
"Omake" is a "free" or extra chapter split into two untitled parts. In the first part, Tomoko reads a manga and comes across a panel where a brother steals his little sister's panties and is later confronted by her. Tomoko decides to plant her own panties in Tomoki's room and observe what he does. Tomoki returns home to find her panties sitting in the middle of the floor of his room. To Tomoko's dismay, her disgusted brother washes his hands after putting her underwear in the washer without wearing it.
The second part shows the artist and author of WataMote, collectively known as "Tanigawa Nico"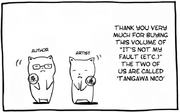 expressing their gratitude toward the readers of the
manga
. They are impressed by the support and never even thought it would go beyond the second volume let alone becoming serialized.
Characters
In order of appearance:
Memorial Moments
The anonymous author and artist thank the readers, even those who e-mailed lewd pictures to them.
Quotes
"He's washing his hands even though he didn't put it [Tomoko's panties] on . . . is that how it is?" – Tomoko
"I'll keep working hard to not forget my hatred for all my classmates, save for a select few. And a baseball club, and continue to do my best." – Nico Tanigawa
Community content is available under
CC-BY-SA
unless otherwise noted.