No Matter How I Look at It, It's You Guys' Fault I'm Not Popular! Volume 06
Watashi ga Motenai no wa dō Kangaetemo Omaera ga Warui![1]
私がモテないのはどう考えてもお前らが悪い![2]
Limited Special Edition comes with a "Nendoroid Petite" of Tomoko Kuroki[3][4]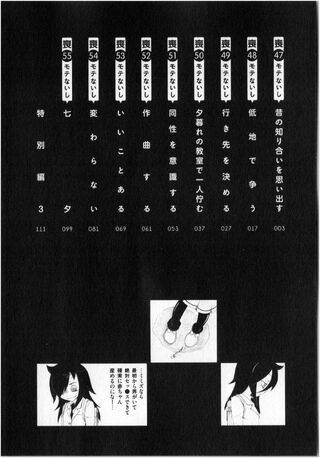 Chapters
Extras and Goodies
Back Cover: Tomoko fantasizes her brother remarking that a lot of guys have been asking him about her; in reality she overhears Tomoki pretend not to hear a guy ask about his older sister until he drops the subject.
Cover Bonus: 

Right Inner Cover: Tomoko rides a unicorn .
Left Inner Cover: explains the significance of a woman riding a unicorn. WataMote Wiki needs smelling salts.

Relationship Chart: (Main Event)

Tomoko, recalls things about Komi-san (person targeting her brother's dick).
School trip to Kyōto decided.
Yū-chan and Komi-san reunited.
Tomoki Kuroki ⟶ Tomoko: "don't want to approach annoying sister"
Tomoki ⟵ Tomoko: "cute looking brother"
Kotomi Komiyama ⟶ Tomoki: "likes"
Tomoko ⟶ Kotomi Komiyama: "I want to defeat" [5]
Kotomi ⟶ Tomoko: "embarrassing" 
Yū Naruse ⟶ Tomoko: "close friend"
Tomoko ⟶ Yū: "Yū-chan suspicious"
Yū ⟶ Kotomi: "reunited friend"
Yū ⟵ Kotomi: "became flashy"
Megumi Imae ⟵ Tomoko: "someone who cares"
Megumi ⟶ Tomoko: "child I can't leave alone"
Ogino ⟶ Tomoko: "worrisome student without friends"
Tomoko ⟶ Ogino: "annoying crap"
Hina Nemoto ⟶ Tomoko: "a little strange classmate"
Tomoko ⟶ Hina: "abnormal suspicious"
Gallery
References
Community content is available under
CC-BY-SA
unless otherwise noted.