No Matter How I Look at It, It's You Guys' Fault I'm Not Popular! Volume 8
Watashi ga Motenai no wa dō Kangaetemo Omaera ga Warui![1]
私がモテないのはどう考えてもお前らが悪い![2]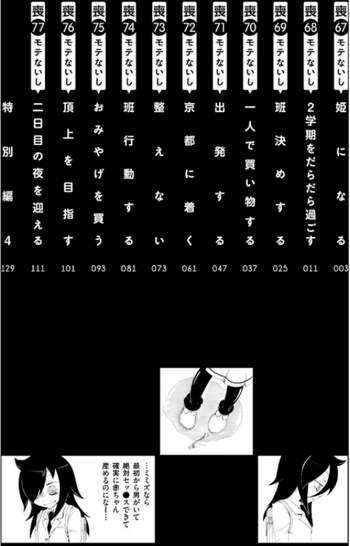 Chapters
Extras and Goodies
Back Cover: Tomoko imagines taking part in a conversation other girls at night about boys. In reality, she lies awake. . . .
Cover Bonus:

Right Inner Cover: Tomoko holds a white rose and kisses a bud.
Left Inner Cover: explains the meaning of white roses in the Language of Flowers.

Relationship Chart: (Main Event)

School trip begins. Future main characters appear.
Psychological descriptions of and relationships between characters other than Tomoko. 
Tomoko ⟶ Tomoki: "when you grow up GUN, right?"
Tomoko ⟵ Tomoki: "don't buy anything"
Ogino ⟶ Tomoko: "worrisome student"
Ogino ⟵ Tomoko: "0 delicacy"
Yuri ⟶ Tomoko: "colossal idiot"
Yuri ⟵ Tomoko: "loner"
Yuri ⟷ Mako: "in a fight"
Yoshida ⟶ Tomoko: "annoying person"
Yoshida ⟵ Tomoko: "delinquent"
Yoshida ⟶ Uchi: "elbow strike"
Uchi ⟶ Tomoko: "don't want to get involved"
Tomoko ⟶ Kotomi: "solitary interrogation"
Kotomi ⟷ Itō: "friend"
References
Gallery