No Matter How I Look at It, It's You Guys' Fault I'm Not Popular! Volume 09
Watashi ga Motenai no wa dō Kangaetemo Omaera ga Warui![1]
私がモテないのはどう考えてもお前らが悪い![2]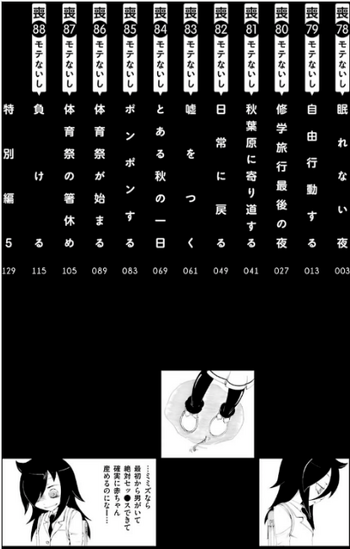 Chapters
Extras and Goodies
Back Cover: Tomoko imagines worrying about her heart beating so hard her partner in the three-legged race will hear it. In reality, she can barely catch her breath.
Cover Bonus:

Right Inner Cover: Friar Tomoko slyly opens an iron maiden with her face on it.
Left Inner Cover: an explanation of the iron maiden which continues the running "virgin" references from previous volumes.

Relationship Chart: (Main Event)

School trip ends. Tomoko overcomes being alone.
Fūka appears. Komi-san's contributions begin to stand out.
Holiday festival. Ucchii breaks through.
Tomoko ⟶ Akari Iguchi: "B-cup at best"
Akari ⟵ Tomoko: "strange enemy and misunderstanding"
Akari ⟷ Sayaka: "friends"
Akari ⟶ Tomoki Kuroki: "likes"
Akari ⟶ Kotomi Komiyama: "Tomoki's sister and misunderstanding"
Akari ⟵ Kotomi: "Tomoki's sister and faking"
Kotomi ⟶ Tomoki: "likes"
Kotomi ⟵ Tomoki: "sneek photos damage"
Tomoko ⟶ Kotomi: "report"
Tomoko ⟶ Emiri Uchi: "Emoji"
Tomoko ⟵ Uchi: "pervert (変態・hentai)"
Tomoko ⟶ Masaki Yoshida: "delinquent"
Tomoko ⟵ Yoshida: "person to beat"
Yuri Tamura ⟷ Yoshida: "friend"
Yuri ⟶ Tomoko: "friend"
Tomoko ⟶ Yuri: "maybe friend"
References
Gallery
Community content is available under
CC-BY-SA
unless otherwise noted.